welcome
Professional chess training in Bangalore:
Individual / group coaching classes
coaching in schools / institutions
online coaching
Karnataka School Of Chess (KSC) has been started with the purpose of providing excellent coaching to all categories of players and to give enough exposure by conducting chess camps regularly and also organizing chess tournaments and corporate chess events to realize their strength of play from time to time.
Karnataka School Of Chess in association with Orion Mall conducted Rapid Chess Tournament on 15/08/2023
read more...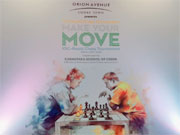 KSC Rapid Tournament on 24th September 2023 at Elements Mall, Thanisandra, Bengaluru

Results

OFFLINE CLASSES at AECS Centre from June23

Details

Abhinav wins Bronz medal at state Under 9 Championship 2022

Details

Conducted Summer camp at Akshara Montessory

Read More

Rishabh kumara wins State School's Championship 2019

Read More

KSC students bag the State Championships 2018 :Amogh Bisht- Under 7,Samith Reddy Under-13.

Ojas Kulkarni scores maiden International Master Norm

Read More

KSC girls Bhagyashree Patil, Nidhi Shenoy and Prachi Bharti sweep the medals in the Karnataka State Under 13 Chess Championship 2016.

Read More

Isha Sharma a proud student of KSC wins Double Bronze in Asian School Chess Championship u-15
All India Rapid Rating Chess Tournament on 19th and 20th December 2015 @ Asia Pacific World School, Koramangala, Bangalore.
FINAL RESULTS
Inaugurated by Dr. Muralidhar and Mr. Stanley Anthony, Principal of Asia Pacific world school.
300 players from different parts of the country participated in this event including 5IMs and 2FMs.
More than 15 players with rating above 2000.
Seperate prizes for boys & girls in age categories under 7,9,11,13,15.
Cash prizes given to top 20 players in open category.
KSC organized a live interaction session with the two IM's Shyaam Nikhil P and Thej Kumar M S, who answered the queries of players and audience.
Summer Camp At Akshara Montessory,Our Achievers: Amogh Bisht,Rishabh Kumara,SamithReddy
KSC bags the best academy prize in the 2nd BDCA FIDE ratingTournament held at Bangalore.